Pet Friendly
We know that your fur baby is part of your family and hard to leave behind. Weve got that covered for you. We have a number of Ruidoso Vacation Rentals that happily welcome the furry members of your family, whether its Fido, or a really fuzzy uncle. There is a one time fee of $50/pet, a Security Deposit that is refundable if theres no mess or damage left behind, and we must be notified, in advance, of all pet guests who will be staying with us. This does not apply to the fuzzy uncle unless he sheds too much or chews on the furniture. Each unit we manage is privately owned. The homeowners determine whether their unit is pet friendly, or not. All pets must be declared in advance and only stay in a pet-friendly unit.
View Rentals »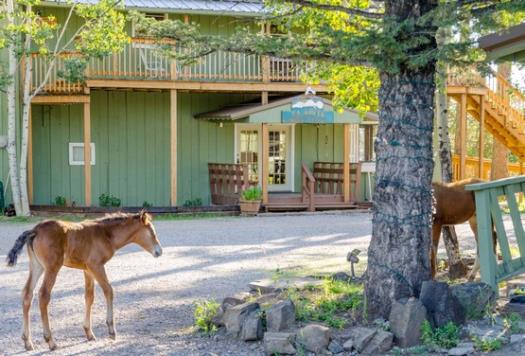 La Junta Guest Lodge
Lodging In Ruidoso is proud to offer La Junta Guest Lodge as the best venue in the Ruidoso area for your family or school reunion, wedding, sports team, or any other large group you want to have close by. With sleeping space for up to 85 people and a large dining hall/meeting space, it`s the perfect solution for whatever event you are planning. ** La Junta Guest Lodge (pronounced Lah Hoonta), is a former working guest ranch on 6.5 secluded acres, 10 minutes from the heart of Ruidoso and closest to the ski area. Its 5 buildings house eleven 2-5 bedroom units; each with kitchens, living rooms, and fireplaces. Theres a courtyard in the center of the buildings with gas grills, a hot tub and horseshoe pit. The Main Lodge building has the lobby and Cantina. In the lobby you will find a lovely seating area near a beautiful flagstone fireplace and a pool table for all of our guests to use. The Cantina is our meeting room and has a large kitchen with seating for 60+ for meals, reunions, sports teams, meetings, receptions, games, etc.. It has a flagstone fireplace and a gorgeous view of the Capitan mountain range. Youre sure to see some beautiful wildlife at La Junta. The deer are friendly, the elk wander through periodically and we always love a visit from the VIPs - Very Important Ponies - The Free Roaming Horses of Alto! Whether youre traveling solo, or with up to 85 of your closest friends, if you prefer to have that "getting away from it all" privacy, only minutes from mid-town Ruidoso, La Junta Guest Lodge is definitely the ticket! ** (When booking La Junta for groups, special circumstances apply. Please contact our office for this information).
View Rentals »